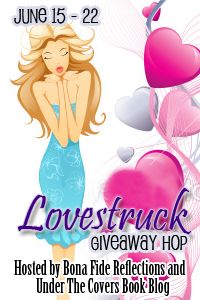 LOVESTRUCK GIVEAWAY HOP
Hosted by Under the Covers and Bona Fide Reflections
Blog hop runs from 12:01 AM June 15th through to 11:59 PM June 22th, 2012.
Love-struck: (adjective) having a passionate or overwhelming feeling of love; smitten
Is there a book or a series that you have read which has left you completely smitten? A hero/heroine that makes other heroes/heroines pale in comparison to the feelings you have for your "true" love? Are you left feeling dissatisfied because there is just nothing else that can compare?
I love all kinds of books and heroes. A few of my favorite men who have left me love struck is Roarke from J.D. Robb's In Death series. I mean seriously, the man is gorgeous, has a sexy accent, knows how to love a woman and those are just a few of his amazing qualities. All I can say is that Eve is one lucky woman and I'd be happy to switch places with her anytime.
Now that I've given you one of my heroes, tell me some of yours. But before you do, here's what's up for grabs…
$10 Amazon Gift Card
So that you can buy more heroes that will keep you in a state of Lovestruck!
KRISTY T.
Please respond to my email in order to claim your prize.